October 12,2000 at the Agora Theatre in Cleveland With Soulfly and Downset:
Slaves did a great live show. Even though there weren't a lot of people watching them or even knew their music the band managed to get the crowd jumpin'. I knew every song with the words memorized. Jason sung perfectly and screamed with as much passion. They walked the stage like they owned it. Jason continusly yelled at the crowd to get them going but the mosh pit was vitrually nonexistant. At the end they had the whole crowd chanting "Don't tell me how to live my life!" Jason even passed his mic down into the crowd where one of their obvious fans screamed in to the mic the chant. By the end of the concert they had about 100 new Slaves.
November 27, 2000 at the Odeon in Cleveland with Shuvel & Crazy Town:
Shuvel did a good set even though there were like 20 people watching them. There were a LOT of Slaves fans. I was in the front right up against the gate but there wasn't really any mosh pits so I didn't have to worry about getting squished. Jason came over right before "Inches From The Mainline" pointed to me and my sister and said "These girls know how to make some noise". It was cool. They played their normal set. Pushing Me, No More Faith, I Can't Die, Stick It Up, Thanks For Nothing, Inches From The Mainline, Fallout, Bitch Slap, & Leader Of Losers. During Bitch Slap Rob missed his cue 'cause he was talking to Kevin 'cause he pulled a mussle in his shoulder. I got one of Kevin's picks at the end of the show. Everyone was chanting "We Want More!!!". It was cool. The guys thought it was funny. We hung out with them for the rest of the time. After the concert was totally over we hung out with all of 'em when the place was trying to close for about an hour. It was cool. I had them all sign my arm & my sis took pic's of it. It was a great concert.
February 3, 2001 at the Agora Theatre in Cleveland on Sno-Core Rock 2001 featuring Fear Factory, Kittie, The Union Underground, & Boy Hits Car: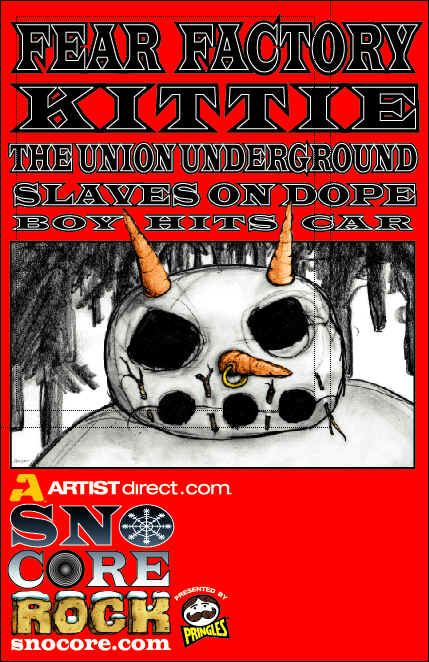 On February 3, 2001 I headed up to Cleveland with my mother & friend Michelle to see Sno-Core Rock 2001 at the Agora Theatre.

The first band to hit the stage was Boy Hits Car. They have great energy when theyre on the stage. Their music has a reggae/pop/rock sound which is very unique, but not the kind of music the audience could mosh to. All in all they kicked it, the music was awesome & their stage performance was great. Watch for their single & video for "I'm A Cloud".

The second band to subdue the masses was the one band I came to see, Slaves On Dope. When these boys take the stage, they take it by force. I was in the pit area during their performance & was totally squished. Their music is so hard & heavy that the mosh pit practically took up the whole standing room area. It was great. Michelle, Brittaney, & I bought some lacy thongs and a pair of granny undies (which we wrote all over) and threw them on stage during a break between songs. It was hilarious!! Jason, the lead singer, put the granny undies on his head for the next song. The guys blew the audience away, the majority of the people in the pit knew every word to every song. The last song, as always, was Leader Of Losers. Every person there was chanting "Dont tell me, how to live my life" until the boys walked off the stage.

Next up was The Union Underground. These guys rock. Their music has a futuristic sound to it. If you like Powerman 5000, you'll defiantly like these guys. Their stage show was awesome. It was a light show, strobe lights, smoke, the whole thing. Their show was all together awesome. If you get the chance to see them live I suggest you take it. Go buy their album "An Education In Rebellion", which features their hit singles "Turn Me On Mr. Deadman" & "Killing The Fly".

The last two acts were Kittie & Fear Factory. I didn't actually watch these two bands, except for one song from Fear Factory which had Frank, Jason, and Kevin of Slaves On Dope run on stage for the chorus. It was great.

I missed the last bands because I was too busy hanging with my boys from Slaves On Dope, & my new friends, Boy Hits Car. We got autographs and pictures with both bands. They're sweeties.

After the concert was over we had access to all the bands. They handed out special Sno-Core posters for all the bands to sign. I also got Kittie & The Union Underground to sign one of my Metal Edge magazines. It was cool. We got to talk to the bands and everything. The guys from Boy Hits Car invited us onto their tour bus after the concert was over for a big band party. But, alas, we couldn't find a way to get back to the busses so we didnt get to party with the bands.
April 6, 2001 at the Main Event in Toledo for the New Blood Tour featuring Factory 81, Drowning Pool, and No One:
Wow.. that show kicked some serious ass!!! All of the bands are awesome, and extremely nice. (Watch out for the guys in Drowning Pool girls...they're HUGE flirts and horndogs).


Here's the guys set list:
No More Faith
Why? (the first time they've played this song in concert)
Thanks For Nothing
Fallout
Stick It Up
Kafka Bug (another first)
*History of Metal* (a metal medially..but they didn't have a long enough set to play it)
Inches From The Mainline
I Can't Die
Leader Of Losers
Pushing Me

The guys from Drowning Pool tried to kidnap me and my friend Michelle while my mom drove Jason to go pick up their bus driver...but they let us go. We had to run in the rain but the doors to the Main Event were locked and we weren't aloud back in so we went to the guy's tour bus (They actually have a Bus now.. no more camper for them.. it's really nice. Length: the size of a normal tour bus, Color: Tan, Year: 1991, No built in goodies yet. But they will be putting in a recording studio in the back in the near future. It used to belong to a couple of country singers so it's used. The skylight leaks (it was raining when we were in the back checking it out and it dripped on me).) and chilled with 'em. It was pretty funny 'cause Kevin was begging me to go to Detroit with them and his girlfriend was right there. His girlfriend is SOOOOOOOOOO nice! It was pretty cool talking to her. Some how we got on the subject of boyfriends and I told them how I haven't had a boyfriend since 8th grade and they were all shocked. Jason told me that if he wasn't married he'd go out with me, then Kevin said if he didn't have a girlfriend he'd go out with me and gave me a big hug (he said we'd probably be in the back of the bus making out while he was coping feels.. it was funny), then Kevin's girlfriend said "Hell I'd go out with you!" It was hilarious. We had so much fun.

When my mom and Jason got back we checked out the bus and talked then we all went to Denny's to eat (my mom followed with our car 'cause my friend Lori was in the back seat sleeping and they weren't going back to the place to have us get back to our car). Me and Michelle rode in the bus with the guys and Kevin was showing me all this cool stuff on his computer. He's on the back of the new ESP magazine..it's pretty cool. He also showed me some pictures of him that are going to be in an advertisement for his speakers (Crate). They're awesome. I had soooooo much fun with the guys. They all want to cancel their show on May 5th so they can go to prom with me.


I think they are actually having a lot more fun now that they are headlining. They get to be more one on one with the audience. Jason got right in my face during one of the songs.. it was pretty cool. When he sang the line "I will never forget you...I can't forget..YOU!" from Kafka Bug he pointed right at me and my friends. This would have to be my favorite show that I've seen of the guys... but I'm still waiting to see them perform "Wag Pigs". Maybe next time.