On here will be a list of the band's CDs, sampler appearances, and anything else I know about. I'll include a picture of the CD jacket (if I have one), a track list, and my own comments.
Metafour
Bieler Bros. Records, 2003
Track Listing:
1. Go
2. September
3. Pattern
4. So Clear
5. Poster Boy
6. Caffeine Love Affair
7. Columbian Ascot
8. Casualty Of Me
9. Glass Friend
10. Drain Me
11. The Plan
12. Drag Down
13. Only Hero
14. Nothing
Comments: I personally LOVE this album. It's a combination of thier album "One Good Turn Deserves Another" and "Inches From The Mainline". You can tell that the band has grown musically in this album. It's absolutly amazing. I've been listening to it non-stop since I got it. Jason actually sings on this album a lot more than the last one. His voice is beautiful and I'm glad he's finally showing it off. Tracks 5, 6, and 10 show that they haven't completely got rid of the growl that brought in the fans with I.F.T.M. But the rest of the tracks are sure to bring in lots of new fans. Nothing is a fun track because it's exactly that... nothing, for about 5 mins. then there's a nice surpise. Pick up the album and you'll find out what I'm talking about. Truely a great album all together.
Inches From The Mainline
Divine Recordings, 2000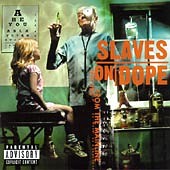 Track List:
1. Brotherly Love
2. Pushing Me
3. I Can't Die
4. Fallout
5. Thanks For Nothing
6. Inches From The Mainline
7. No More Faith
8. Stick It Up
9. Why
10. Bitch Slap
11. Kafka Bug
12. Leader Of Losers
Comments:
I love this whole C.D. Kevin's guitar work is awesome. Frank gives the deep rumble through out. Rob rocks. Jason's vocals are perfect.
Ozzfest Live Second Stage
Divine Recordings, March 27, 2001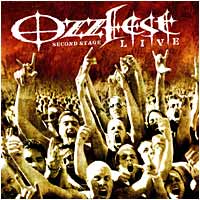 Track listing:
Second Stage Live:
1. Soulfly - EYE FOR AN EYE
2. Disturbed - VOICES
3. Slaves On Dope - PUSHING ME
4. Kittie - SUCK
5. Primer 55 - THE BIG FUCK YOU
6. Queens Of The Stone Age - ODE TO CLARISSA
7. Pitchshifter - KEEP IT CLEAN
8. Taproot - MIRRORS REFLECTION
9. Soulfly - PAIN
10. Ozzy Osbourne - I DON'T KNOW

Ozzfest Live!:
Coal Chamber - LOCO
Earth Crisis - BROKEN FOUNDATION
POWERMAN 5000 - ORGANIZIZED
Neurosis - LOCUST STAR
Fear Factory - REPLICA
Biohazard - THESE EYES
Sepultura - ATTITUDE
Slayer - ANGEL OF DEATH
Ozzy Osbourne - PERRY MASON
Blair Witch 2: Book Of Shadows Soundtrack
Priority Records, 2000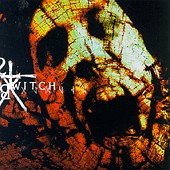 Track Listing:
1. The Reckoning - Godhead
2. Lie Down - P.O.D.
3. Goodbye Lament - Tony Iommi featuring Dave Grohl
4. Dracula - Rob Zombie
5. Mind - System Of A Down
6. STICK IT UP - SLAVES ON DOPE
7. Suicide Is Painless - Marilyn Manson
8. Soul Auctioneer - Death In Vegas
9. PS - Project 86
10. Old Enough - Nickelback
11. Feel Alive - U.P.O.
12. Tommy (Don't Die) - Steaknife
13. Arc Arsenal - At The Drive-In
14. Human - Elastica
15. Feel Good Hit Of The Summer - Queens Of The Stone Age
Brett Michaels presents: A Salute To Posion "Show Me Your Hits"
2000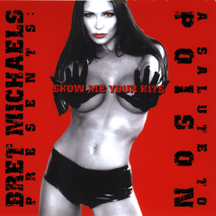 1. "LOOK WHAT THE CAT DRAGGED IN" BY SLAVES ON DOPE
2. "Talk Dirty To Me" by Total Chaos.
3. "Fallen Angel" Bret sings with Mark Kendall on guitar.
4. "Something To Believe In" which is piano and acoustic guitar.
5. "Nothing But A Good Time"
6. "I Want Action"
7. "Unskinny Bop" sung by Pauly Shore
8. "Stand" which is acoustic.
9. "So Tell Me Why" Bret sings this with somebody else
10. "Doin' As I See On My TV"
11. "Every Rose Has It's Thorn" acoustic.

Klepto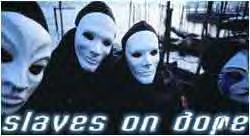 Track Listing:
1. Pushing Me
2. I Can't Die
3. Fairy
4. Tremolo
5. Bitch Slap
6. Sit Down
One Good Turn Deserves Another
Just A Minute Records, 1997

Track List:
1. I'll Never Feel
2. Stress
3. Light On Your Feet
4. John Wayne
5. Favorite Friend
6. Down For This
7. All You Ever Want
8. Porno Buddy
9. Prom Queen
10. Recogize
11. Can You Taste It?
Sober
Independently released, 1993
Track Listing:
1. Tearing The Seams
2. Calmly
3. Yourself
4. Roger
5. Smell The Sky
6. Brass