Welcome!

This page is my way to get a date for prom by asking Jason, Kevin, Rob, & Frank from Slaves On Dope.
Check out About Me to know a little back ground info on me, Pictures to see me dressed up for my other dances, and The Letter to read the letter I sent them.
Don't forget to sign my guestbook to let me know what you think.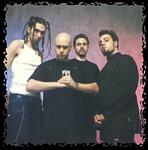 (From left to right) Kevin Jardine, Jason Rockman, Rob Urbani, & Frank Slaviggio